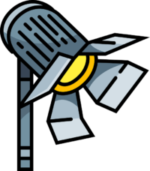 P.E.O. Home Spotlight
Shining the "Bright Spotlight" on our resident, Marlene Bang.
 Marlene (Thompson) Bang was born in Devils Lake, North Dakota and raised in New Rockford, ND.
Her P.E.O. involvement is impressive, as in 1957 she was initiated in Boone, IA, joined Chapter HT in Newton, IA in 1957, transferred to Chapter HS in Des Moines, IA and is a current member of Chapter E, Omaha.
Educational history for Marlene consists of K-12, graduating with a BA from North Dakota University and receiving a Master's Degree in Speech Pathology from Wisconsin University.
Continuing her P.E.O. involvement, she was employed at the P.E.O. Executive Office in Des Moines in Materials Management. Her position placed her in charge of supplies, preparations for conferences and much more!
Marlene enjoyed her married life with husband, George (now deceased). She has two sons, Rob and Kenneth and daughter, Barb, and favorite grandchild, Elyse.
She led a busy life with Playmakers while attending college. Marlene became a charter member of Community Playhouse in Des Moines, as well as serving on many additional committees and organizations within their church.
Marlene enjoys playing bridge, listening to classical symphony music, reading mystery books, and watching movies. She enjoys playing games and visiting, as well. If you asked Marlene her favorite type of food, it is French Cuisine.  She does enjoy walleye fish as it is one of her preferences for specific foods.
Marlene is certainly a wonderful addition to our Home as she brings so much P.E.O. experience and her warm personality which makes residents and staff so very happy to know and work with her.